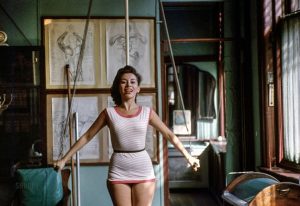 Thank you Elaine Ewing of Rhinebeck Pilates for working so hard to find and share these Amazing photos of the opera singer Elaine Malbin shot by John Vachon for Look Magazine at Joseph Pilates' gym in the 1950s. Ms. Malbin often resembles Marilyn Monroe because Mr. Vachon extensively photographed Marilyn. Ms. Malbin's joy in the Contrology gym is contagious.  You can even see Clara teaching. The gym is fascinating.
Elaine Ewing is sharing them on instagram originalpilatesphotos. She also has a live instagram lecture on how she came about them. Instagram rhinebeckpilates, and the website Rhinebeckpilates.com
I encourage everyone to spend some time looking at these gorgeous pictures.
Also found on Elaine Ewings' instagram: