All Immersion™ Pilates Aquatics™ Classes and Course Offerings are currently not available.
Enjoy Classic Pilates in, on and by the water, in a fun, challenging, supportive environment. Become a pioneering Immersion™ Pilates Aquatics™ Teacher and student. Discover the
newest, most exhilarating form of body-mind conditioning that deeply works your abdominal, shoulder and hip muscles instantly! For information and a flyer contact Jennifer M Stacey, MS info@peakperformancepilates.com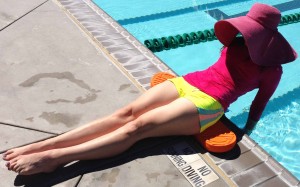 Following Joseph Pilates' philosophy to "Never fail to get all the sunshine and fresh air you can" 'and work in the water', Jennifer Stacey, MS created the
Immersion™ Pilates Aquatics™ School to educate teachers on teaching the Classic Pilates repertoire in the water, using a patented device she invented. It is fun, challenging and supportive! The wiggle of the water adds an extra proprioceptive challenge that makes you instantly access the centers. The support of the water allows you to learn the advanced repertoire earlier, even if you have injuries. IPA™ deepens your understanding and cueing of Pilates. Learn the images, cues and wisdom of the Pilates Elders.
"Immediately feel the work in a deep way" "brilliantly energizing"  Imagine carrying the entire line of Pilates' apparatus in a backpack and performing the Classic Repertoire in the sunshine?  It is exhilarating being able to perform the entire advanced Classic Pilates work, while challenging the center and supporting the body (it is appropriate for beginners and people with injuries as well). We were introduced in Pilates Style Magazine July/August, 2016 edition!
Advance your Pilates teaching in the studio. Expand your opportunities to teach Pilates (outside, at retreats, at pools, clubs, HOAs, client's pools, spas, etc). Enhance your knowledge of Classic Pilates while outside, in a beautiful setting! Become a licensed Immersion™ Pilates Aquatics™ (IPA™) Teacher and even a licensed  IPA™ Teachers' Educator. Earn 18  PMA CECs. The Immersion™ Pilates Aquatics™ (IPA™)  Teachers' Course is taught by Jennifer M. Stacey, MS, Exercise Physiologist /Biomechanist, 2nd Generation Pilates Teacher, a Teachers' teacher who has being teaching Pilates worldwide since 1989. "I always think of Jennifer as the best teacher I have ever met."    "Jennifer is a brilliant Teachers' Teacher."
"I got a thousand hours of information from the 18 hour course." KP
"With every experience of Immersion™ Pilates Aquatics™ I learn new insights that directly transfer to teaching in the studio. I'm falling in love with Pilates all over again, it's great!"   FS  
"I was amazed by how well Jennifer translated the Classical Pilates exercises to be done in and by the water."  
"It's Contrology! Contrology!" 
"I feel  IPA™ will be the future of water exercise or at least a wonderful addition to fitness in the water." RH, General Manager, Moraga Country Club.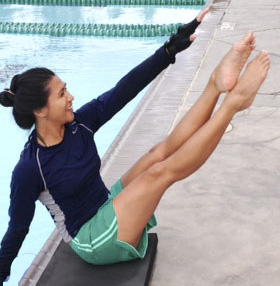 Immersion™ Pilates Aquatics™.  Moraga, California.   May 1-3, 2020. COVID-19 delay: summer, tbd. If the participants are local then it will be held over a couple of weekends. If we have people traveling from other places it will be 3 days in a row.  18 pMA CECs. 10 am – 5 pm.  See below for payment link.  Moraga flyer: IPAMoraga20flyer
Information packet: IPACert2020
Application: IPAcertapplicMay2020
Come try a class! Jennifer Teaches an  Immersion™ Pilates Aquatics™ class in Moraga on Fridays at 1:30 – 2:30 pm.  There are also occasional Sunday classes. Solo and duet sessions by appointment available. COVID-19 TIME: We are now providing online Pilates sessions.  Movement is health. If you have a 30 gallon tub. You can fill 15 gallons of water and perform the Deck Edge work when the weather gets warm. Fun and challenging.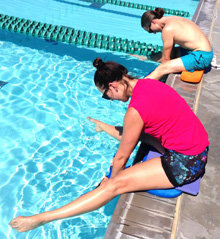 Explore Classic Pilates with Jennifer M. Stacey, MS, Second Generation Pilates Teacher, Exercise Physiologist/ Biomechanist. Learn the images, cues and wisdom of the Pilates Elders. A rare opportunity to study from a 2nd Generation Teachers' Teacher in a small group and beautiful setting. Email Jennifer if you are interested in taking Pilates sessions in a Pilates studio in Europe, including a Kathy Grant class. If you would like Jennifer to teach at your studio in Europe, please contact Jennifer. Details coming. For an application to the IPA™ course.  info@peakperformancepilates.com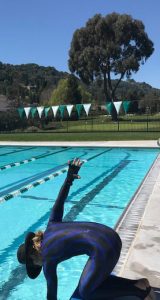 Sign up early, space is limited in all IPA™ courses (6 (Moraga) – 10 (Rome) people maximum).
We will be having fun at Booth 9 at The Pilates Method Alliance Conference in Monterey, CA Oct. 23-26, 2019. See you there! Find your centers at the booth or try a free session in the La Portola (and Marriott) pool.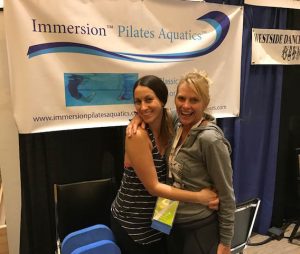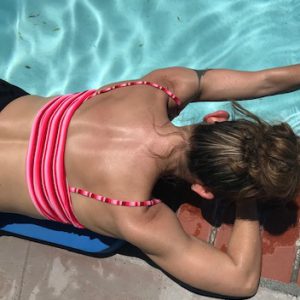 Postponed until 2020, 2021: Jennifer M. Stacey, MS, 2nd generation Pilates Teacher, will be returning to Europe. There are several Pilates Workshops, Sessions and a Immersion™ Pilates Aquatics™ Course planned for Rome, Italy. Immersion™ Pilates Aquatics™ course. Rome, Italy! Rome Forum Sports Center.   18 PMA CECs. 10 am – 5 pm with 1 hour lunch.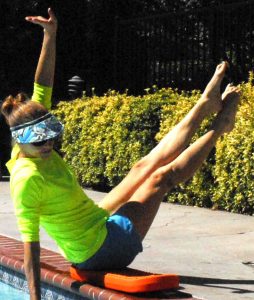 Jennifer will also be teaching Pilates Studio workshops and sessions at Pilates4u in the Forum Sports Center. Rome. The workshops and the Immersion™ Pilates Aquatics™  course in Rome have been postponed. Please stay tuned.  If you have a specific date you would like for these exciting events to happen in 2019 or 2020 – please contact info@peakperformancepilates.com
Rome flyer: IPARome19flyer
Future courses: A France Villa. Maui, HI. Japan. Melbourne, Australia. Miami, FL. France. Greece. France, Spain. Palm Springs. Pensacola, FL. Ukraine. Moraga: dtbd.  info@peakperformancepilates.com
The course reviews the following: a Movement Perspectives™ lecture, and Pilates in, on or above the water, approximately: 5-6 hours each of The Reformer, Mat, and Chairs Repertoire, 2 hours of Cadillac repertoire, Ped-u-pol, Barrels, etc. Moraga: $750 plus pool fee ($10 per day (rate subject to change) for large pool. No fee for small pool.). Rome, Italy price $860 (includes 3 day pool fee). Includes: comprehensive, detailed manual ($90 value), workout cards, coaching, support and more. Discounts on the IPA™ board kit, supplies and Peak Performance Pilates manuals.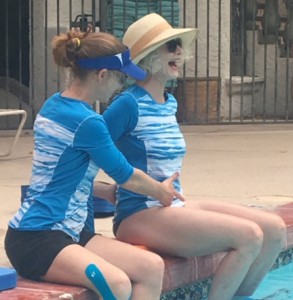 Learn how to safely perform and teach each Pilates skill, plus the following: Movement Perspectives™, Performance, Biomechanics Modification, Variations, Sequencing, Transitions, Levels, Benefits, Challenges specific to water, Contra-indications. Similarities and differences with the Pilates apparatus vs water, Spotting each skill. Cues and skills from the Pilates Master Elders.
Becoming a licensed IPA™ teacher includes education support, free continuing education, advertising and advertising materials, referrals, support and the joy of teaching Pilates in the water!          There will also be an abbreviated course for Physical Therapists and Fitness professionals.
Application for Rome course: IPAcertapplicRome2019
The Rome course has been postponed. Stay tuned for the new dates. Rome IPA™ Course  several ways: Credit Card (We will send you an invoice via Square or Paypal), Wire transfer, or Paypal Payment. Paypal (4.4%) and Square (3.5%) incur bank fees.  Paypal: $860 plus $37.84 paypal fee = $897.84

Shirley Archer (Pilates Teacher) wrote an article for

IDEA Fitness Journal in May 2017

: Water Fitness: The Science behind the Splash. P. 36 – 44. She states several studies.

"Experts agree that water fitness is positioned for significant growth owing to changing demographics, improved equipment options and greater public awareness."  "A new era of water fitness is here." "Mounting research on the benefits of Aquatics Exercise supporting the claim that it helps people of all ages and ability levels." Aquatics Exercise had one of the highest spikes in the fitness industry in 2018.
If you would like to take an IPA™ class, the following teachers are available to teach you: San Francisco – Quilet Rarang; in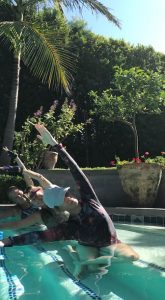 Oakland – Alicia Ricci; in Moraga – Jennifer Stacey, MS.  Wisconsin: Susan Whipp.  Marta Serra Marti, Faye Stevenson, Vanessa Lind, Gaby Diskin, Nadia Brunner-Velasquez, Tamara Harrison in the East Bay. Kathryn Peters, Lelia Parma, and soon Eleanor Singleton in Los Angeles. Carrie Fields in Arizona and Las Vegas. Jennifer is offering classes in Moraga on Fridays and Sundays. Please contact Jennifer if you are interested in attending an IPA™ class.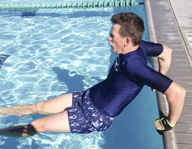 Pre-requisites for the full IPA™ course: 1-3 years of Teaching Classic Pilates on all apparatus. Comprehensive Pilates Certificate of completion. It is presumed the teacher fully understands the complete system that Joseph and Clara Pilates designed. Anatomy, biomechanics, kinesiology aptitude. Swimming aptitude. Water Safety (Red Cross offers short online courses), CPR certification.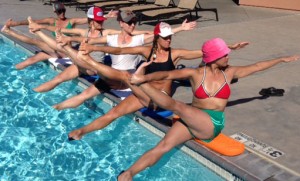 Future host sites: Future: Rome, Italy, England, France, Japan. If you are interested in hosting an IPA™ course contact Jennifer: info@peakperformancepilates.com
Immersion™ Pilates Aquatics™ FUN in Helsinki, Finland in October, 2018 at the Scandic Hotel at IADMS.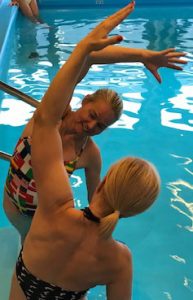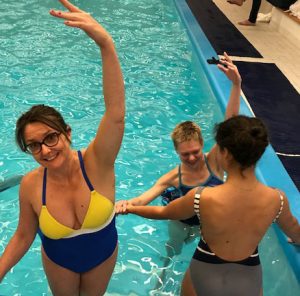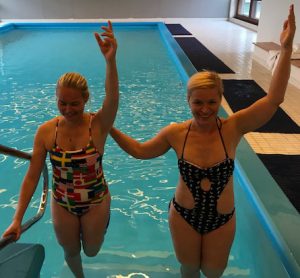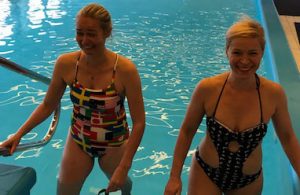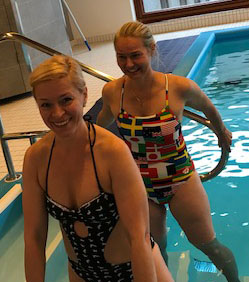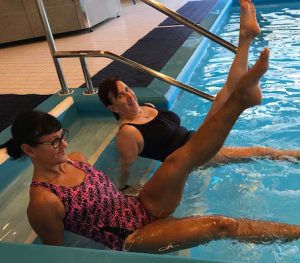 Immersion™ Pilates Aquatics™ FUN at the Pilates Method Alliance Conference in Indian Wells! Thank you Marta for your fantastic teaching and work. Thank you everyone for playing (and laughing) in the pool.  Thank you for all who attended my workshop Stretch or Squish, and demonstrators Katya and Junko. See our beautiful "office" below.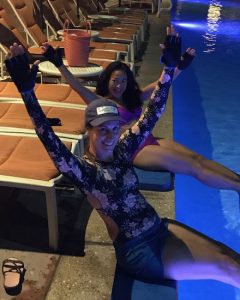 We were excited to share Booth 23 with the revered Marika Molnar ( her Parasetter(r))  at the PMA conference in Indian Wells, CA in October, 2017. Many wonderful people had a Free IPA session at the PMA conference pool! We closed the pool out at 11:15 pm!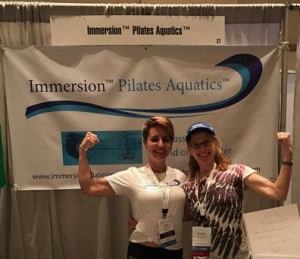 We had a booth (27) at the Pilates Method Alliance in Arizona in October, 2016. It was exciting to be debuting IPA™. Thank you Alicia Ricci for helping.  We had a blast sharing the fun in the pool with Jillian Hessel, Suzanne Reiman, Jan Dunn, Pam Khoury, Kristine Ngo, Liz Chroman and many others!  Thank you everyone for coming by and trying it at the booth.  We now have people signing up for the Moraga, Southern California and Miami courses for 2017. Thank you Anna Alvarez for offering to host the Miami course. Here are some pictures of the lovely Jillian Hessel: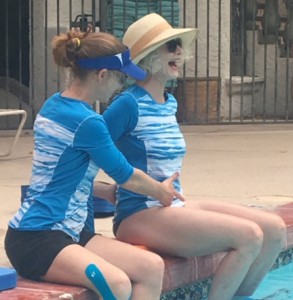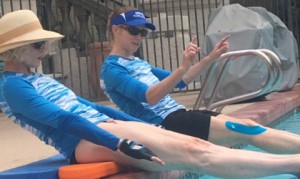 What people are saying about Immersion™ Pilates Aquatics™:
I was lucky to get a chance to experience Jennifer Stacey's new Pilates in the water. I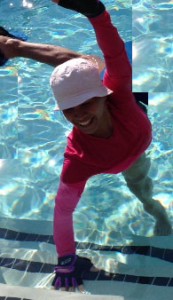 have been practicing Pilates for close to 30 years, and teaching for 20. Feeling the work in the water was an amazing experience. My body was able to organize around the central axis and deeply feel the spinal flexion, extension, twisting and side bending of the work. For some reason the support of the water made it easier to feel the movement originating from the core. I highly recommend this work for anyone at any level to feel the Pilates work as it was intended. – Carol LeMaitre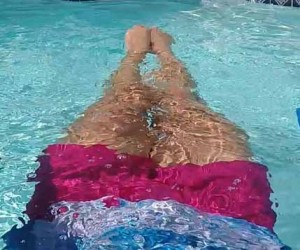 I had a blast doing Pilates Aquatics™ with Jennifer Stacey! As a Pilates teacher myself, I was amazed by how well Jennifer translated the Classical Pilates exercises to be done in the water. Pilates Aquatics enables you to easily feel your core working, and being in the pool is an especially safe way to exercise. This workout is both fun and challenging for beginning to advanced students of Pilates. – Alicia Stone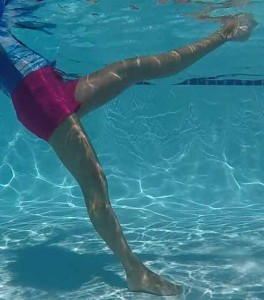 I worked on the swim board during the retreat in Italy, that was organized by Jennifer  Stacey. I think the swim board is an important invention. The Pilates exercises on the swim board were easily adapted to my own capabilities / limitations. During the specific Pilates exercise organized to perform in the water is the upward force your
friend and your challenge. (That was very funny). Great results in a short period of time. After the first class, my neck and shoulders felt connected to the rest of my body. I believe that it is very important that during class we experienced great fun together. And certainly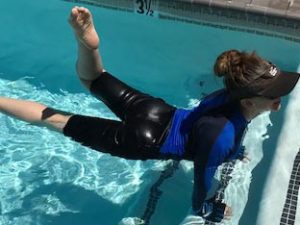 not in the last place, "Pilates on a Pilates Aquatics board™" is a mindful activity. I had to concentrate to keep the board under control and do the exercise properly. So I it was impossible for me 'during the exercises to make my shopping list in my head. – Pam Garcia
Pilates Aquatics was full of "Aha!" moments for me. Doing Pilates in the water provided a slight shift in physics that allowed me to immediately feel the work in a deep way. The exercises felt very accessible, and working out in a pool setting is brilliantly energizing!
– Lawrence Stone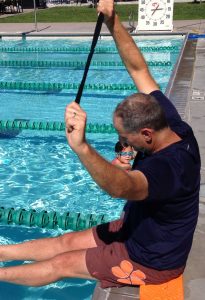 The Pilates Aquatics™ was an excellent method of doing Pilates.  What I found was that, despite the fact I have been doing Pilates for over 12 years, Pilates Aquatics™ requires greater effort to do the simplest Pilates exercises correctly which leads to a deeper level of work for the core muscles.  The need for a greater amount of balance due to the board buoyancy seems to exaggerate even the smallest movement, thereby requiring more concentration and doing the exercise correctly.  It is an exercise method I would strongly recommend. – Ken Klein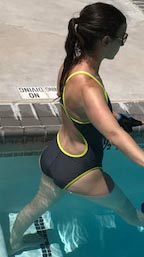 I have been "Seraped!" I thought I understood the Serape;  the wing – center connection.   But now I really do after a day of IPA™! – SW
It makes Pilates honest!  All Pilates teachers should practice IPA™ in order to feel the deep center, and to learn how to perform Pilates with the correct technique.- Alicia Ricci
We are introduced in the July/August, 2016 edition of Pilates Style Magazine. A full feature expected in the future!