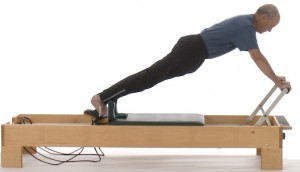 We offer introductory sessions that allow us to evaluate how the client moves, find out his/her goals, and any time, financial or physical restrictions the client may have. From this information we develop a program that best suits the client's needs for in the studio, at home and application to any other activity he/she may do.
We do not require any membership or monthly fees.
A variety of programs are offered, depending on what type of session a client chooses and how many sessions he/she buys at once (1x, 5x, 10x card) ($37 to $85 per hour). Prices subject change.
We offer Pilates:
Solo sessions:  $82 – 95, half hour $53 – $62.

Duet sessions: $53 – $62

.

Trio/Quartet/Quintet apparatus sessions: $37 – $45.

Group Mat classes. None available at the moment. All classes use Mat and Apparatus.

Independent workouts for intermediate level clients.

Discounted sessions taught by Apprentice Teachers.

Bodywork, workshops and movement sessions based on the teachings of Moshe Feldenkrais by Jeff Smith.
Semiprivate apparatus (duet, trio, quartet, quintet) classes are available by appointment. Participants are matched according to level, skill, time availability and by the presence of injuries. Class size in San Francisco is limited to no more than 5 clients.  In the Half Moon Bay studio class size is limited to no more than 4 clients.
Contact: info@peakperformancepilates.com

Immersion™ Pilates Aquatics™ School
Following Joseph Pilates' philosophy to "Never fail to get all the sunshine and fresh air you can" and 'work in the water', Jennifer Stacey has created the Immersion™  Pilates Aquatics™ School to educate teachers on teaching the Classic Pilates repertoire in, and on the water, using a patent pending device she invented. It is fun, challenging and supportive!  Imagine carrying the entire line of Pilates' apparatus in a bacpack and performing the Classic Repertoire in the sunshine? Get a deep workout in your abdominals, hips and shoulders while discovering the wonders of Pilates. It is so exhilarating being able to perform the entire advanced Classic Pilates work, and gymnastics' skills while challenging the center and supporting the body (it is appropriate for beginners and people with injuries as well). Class inn Moraga Fridays at 1 pm. The Teachers' course and Client sessions are offered in Moraga California. More locations to come.…. Dates for the next teachers education program to be announced. October 27 – 29. For information:
What people are saying about Immersion™ Pilates Aquatics™:
I was lucky to get a chance to experience Jennifer Stacey's new Pilates in the water. I have been practicing Pilates for close to 30 years, and teaching for 20. Feeling the work in the water was an amazing experience. My body was able to organize around the central axis and deeply feel the spinal flexion, extension, twisting and side bending of the work. For some reason the support of the water made it easier to feel the movement originating from the core. I highly recommend this work for anyone at any level to feel the Pilates work as it was intended. – Carol LeMaitre
 I had a blast doing Pilates Aquatics™ with Jennifer Stacey! As a Pilates teacher myself, I was amazed by how well Jennifer translated the Classical Pilates exercises to be done in the water. Pilates Aquatics enables you to easily feel your core working, and being in the pool is an especially safe way to exercise. This workout is both fun and challenging for beginning to advanced students of Pilates. – Alicia Stone
See more quotes on the teachers education page. 
Peak Performance Pilates is proud to be a associated with Robert Valli, the owner of Pilates Apparatus Repair (par). Par has offered meticulous servicing, repair, refurbishment and maintenance of Pilates apparatus since 1995. For more information go to www.pilatesapparatusrepair.com info@pilatesapparatusrepair.com
Information on Balanced Body www.pilates.com <https://www.pilates.com>