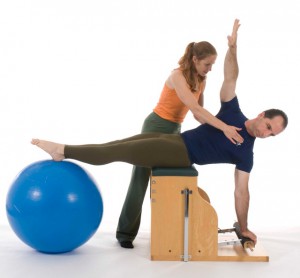 Jennifer Stacey, M.S., Second Generation Pilates teacher, exercise physiologist, is available for teaching Pilates Teachers' courses, seminars and workshops in the USA and worldwide.
Since 1991, Peak Performance Pilates teachers' education course is a time honored, internationally reputable program that respects the work of Joseph and Clara Pilates. The course is listed as "The most comprehensive course" in the Pilates Method Association.
The course is a comprehensive program to learn how to teach in a highly intelligent and kinesthetic manner.  It is also a Mentoring Bridge program for those who are Pilates Teachers. Jennifer may be starting the Peak Performance Pilates Comprehensive Teachers' course and mentoring bridge program in the fall, 2018.
In the course you learn to: teach, cue, modify and spot the classic Pilates exercises on all apparatus; program design – levels, sequencing, transitions, insights from 5 Master Elder Teachers; concepts; business management.
The course requires: 150 hours of lecture, 200 hours of observation, 600 hours of assistant teaching and paid supervised teaching, and taking Pilates sessions 2 times a week.
Prerequisites: Experience in the following: Advanced Pilates in your body; movement teaching; being a mover (dancer, yoga, etc.); studies in anatomy, physiology, kinesiology, physical rehabilitation.
It requires dedication, commitment and a respect for the system that Joseph and Clara Pilates designed.
The lectures are organized according to apparatus and level.
1. Pre-Pilates (prepares the body to perform Pilates more effectively)
Movement Perspectives™ and concepts

Historical context of Joseph and Clara Pilates and the Master teachers

Posture and Gait Assessment

Basic injury rehabilitation and prevention

Movements based on teachings of M. Feldenkrais,

Physio-Synthesis® and d

ynamic stabilization
2. The Full Pilates Repertoire:
Beginning Cadillac

Pilates Mat

The Universal Reformer

Intermediate/advanced Cadillac

The Chairs

Spine Corrector (small barrel)

Ladder Barrel

Auxiliary apparatus (including Ped-a-pul)
Each lecture is divided into various subjects:
a) Management: How to deal with clients, scheduling, pricing, what it takes to run a business.
b) Marketing: Advertising, publicity.
c) The language of teaching.
d) The "eye" and "focus" of teaching.
e) How to assist hands on, how to spot without endangering your own body.
Each lecture is divided into Concepts of "how to teach".
a) An exercise; the mechanical, physiological and kinesiological principles behind the movement and its applications.
b) When and how to introduce an exercise. The levels on each apparatus. How to modify a movement for a client.
c) The order, modifications, transitions and sequencing, and flow of exercises.
d) The exercise repertoire on all of the equipment and how it relates between each piece of apparatus.
e) How to develop a program for a client and how to customize and apply.
f) How to deal with special problems.
g) The versions of the various Master teachers
(Romana Kryzanowska, Kathy Grant, Ron Fletcher, Eve Gentry, Bruce King) will be presented to increase your understanding of the exercise, where it originated.
In addition the following subjects will be reviewed:
a) Muscle and nerve physiology
b) Exercise physiology and application to "training principles"
c) Kinesiology and biomechanics.
Practical and written Quizzes will be given during the lectures. An entrance exam and final exam (written and practical) are required.
For information contact Jennifer Stacey, M.S. at info@peakperformancepilates.com
Immersion™ Pilates Aquatics™ School
Following Joseph Pilates' philosophy to "Never fail to get all the sunshine and fresh air you can", Jennifer Stacey has created the Immersion Pilates Aquatics™ School to educate teachers on teaching the Classic Pilates repertoire in, by and on the water, using a patent pending device she invented. It is fun, challenging and supportive!  Imagine carrying the entire line of Pilates' apparatus in a duffle bag and performing the Classic Repertoire in the sunshine? Get a deep workout in the abdominals, hips and shoulders. It is so exhilarating being able to perform the entire advanced Classic Pilates work, and gymnastics' skills while challenging the center and supporting the body (it is appropriate for beginners and people with injuries as well).
What people are saying about Immersion™ Pilates Aquatics™:
I was lucky to get a chance to experience Jennifer Stacey's new Pilates in the water. I have been practicing Pilates for close to 30 years, and teaching for 20. Feeling the work in the water was an amazing experience. My body was able to organize around the central axis and deeply feel the spinal flexion, extension, twisting and side bending of the work. For some reason the support of the water made it easier to feel the movement originating from the core. I highly recommend this work for anyone at any level to feel the Pilates work as it was intended. – Carol LeMaitre
 I had a blast doing Pilates Aquatics™ with Jennifer Stacey! As a Pilates teacher myself, I was amazed by how well Jennifer translated the Classical Pilates exercises to be done in the water. Pilates Aquatics enables you to easily feel your core working, and being in the pool is an especially safe way to exercise. This workout is both fun and challenging for beginning to advanced students of Pilates. – Alicia Stone
I worked on the swim board during the retreat in Italy, that was organized by Jennifer  Stacey. I think the swim board is an important invention. The Pilates exercises on the swim board were easily adapted to my own capabilities / limitations. During the specific Pilates exercise organized to perform in the water is the upward force your friend and your challenge. (That was very funny). Great results in a short period of time. After the first class, my neck and shoulders felt connected to the rest of my body. I believe that it is very important that during class we experienced great fun together. And certainly not in the last place, "Pilates on a Pilates Aquatics board™" is a mindful activity. I had to concentrate to keep the board under control and do the exercise properly. So I it was impossible for me 'during the exercises to make my shopping list in my head. – Pam Garcia
Pilates Aquatics was full of "Aha!" moments for me. Doing Pilates in the water provided a slight shift in physics that allowed me to immediately feel the work in a deep way. The exercises felt very accessible, and working out in a pool setting is brilliantly energizing!
– Lawrence Stone
The Pilates Aquatics™ was an excellent method of doing Pilates.  What I found was that, despite the fact I have been doing Pilates for over 12 years, Pilates Aquatics™ requires greater effort to do the simplest Pilates exercises correctly which leads to a deeper level of work for the core muscles.  The need for a greater amount of balance due to the board buoyancy seems to exaggerate even the smallest movement, thereby requiring more concentration and doing the exercise correctly.  It is an exercise method I would strongly recommend. – Ken Klein