Come by our Immersion™ Pilates Aquatics™ Booth 23 at the Pilates Method Alliance Conference in Indian Wells, CA, October 25-28. Sign up for a free session! Try a free IPA™ session at the resort's pool at a time that is most convenient for you. We will also have a free demo at the pool several times including Friday at 9:15 am.
Exciting news! There are several Immersion™ Pilates Aquatics™ Courses being planned including in Maui, Hawaii;  Kona, HI, Melbourne, Australia; Barcelona, Spain, Helsinki, Finland. IPA™ classes may even be offered in Argentina in the future.
Due to popular demand Immersion™ Pilates Aquatics™ (IPA™)  Teachers' Course in Moraga, CA, will be held in October/November, 2017! Dates soon to be determined. Earn 18  PMA CECs having fun in the sun. It is taught by longtime Pilates Teachers' teacher Jennifer M. Stacey, MS, 2nd Generation Pilates Teacher, Exercise Physiologist/ Biomechanist.   IPA™ is an exhilarating, fun and challenging way to explore Classic Pilates in, on and by the water.  Find your deep centers immediately.  IPA™ honors Joe and Clara's system, and his advice to "get as much fresh air as you can, and work in the water." Become a licensed Immersion™ Pilates Aquatics™ (IPA™) Teacher and even a licensed  IPA™ Teachers' educator.  CECs will be offered for the Melbourne, Australia course which is predicted to be held in February, 2018. Spring or Fall near Barcelona.
At the PMA conference,  Jennifer M. Stacey, MS is presenting an intriguing workshop Saturday, October 28,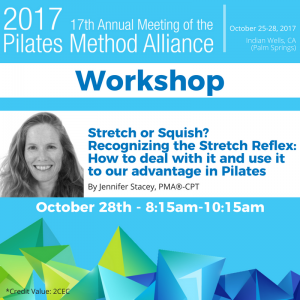 8:15 – 10:15 am. "Stretch  or Squish?"  Learn to instantly access the centers and release hypertonic muscles, by mastering the stretch reflex.